That's What They All Say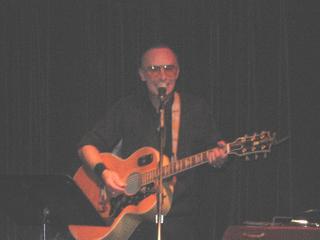 Graham Parker @ The Tin Angel Philadelphia, PA 10/21/05
First, a little background. GP is one of my favorite artists of all time and I've seen him perform more times than any other artist in the decade since I've become a fan. Like many fans, I got into him via an unhealthy obsession with Elvis Costello and Joe Jackson in my 2nd year of college that's lasted to this day, so I was a natural for GP fandom since he always got compared to both of them back in the late '70s when they all first started out. After getting
Squeezing Out Sparks
when I was 20, I proceeded to get his entire back catalog over the course of the next year or so and I never looked back, snapping up reissues, new albums and albums of previously unreleased material as much as I could.
Most of those times that I've seen him have been solo and while I've never seen him do a bad show, obviously some were better than others with a few being totally trascendent. I can easily put this show in that category since the sound was great, our view was great (as a side note, we got a table for having dinner there beforehand; while I liked the upstairs of the club as it's an ideal venue for singer-songwriters though it feels a little cramped as it's very narrow, I have to warn anyone who goes there not to eat there unless they're absolutely insistent on getting a table for the show since the food was very mediocre and to make matters worse, very overpriced. It's the kind of place that names its food with fancy names and takes advantage of the fact that it's in a nice neighborhood and that people are willing to fork over large amount of money to eat there, but in reality beneath the hype and the priciness, the food is soulless and tasteless; the Thai beef salad was in particular abysmal) and most importantly, GP was in fine voice and seems reinvigorated after a very good new album (his best in a decade) with the Figgs that came out back in June (
Songs of No Consequence
).
The setlist focused on his 1st 2 albums (including "That's What They All Say", "Silly Thing", "White Honey" and "Heat Treatment") along with 3 songs from 1979's landmark album
Squeezing Out Sparks
("Waiting for the UFOs", "Passion is No Ordinary Word" and a rousing sing-a-long version of "Local Girls" with the crowd singing the chorus and providing backing vocals) along with new and unrecorded material (including the fantastic "Harridan of Yore", which recounts Al Franken's meeting with Barbara Bush; it got an enormous amount of audience applause for its hysterical lyrics and imagery) as well as a few songs from his most recent albums. These included "Did Everybody Just Get Old" and "Evil" from
Songs of No Consequence
as well as "Almost Thanksgiving Day" and "Things I've Never Said" from 2004's
Your Country
. After he played the latter, he admitted that he took the groove out of it from Neil Young's "Harvest" and proceeded to play a verse and a chorus from it as well as one from "The Needle and the Damage Done", which also illicted a great audience response. A few early '90s tunes made the cut as well, including "Weeping Statues" from 1991's masterwork
Struck By Lightning
and 2 songs ("Mr. Tender" and "Long Stem Rose") from 1992's
Burning Questions
.
The picture above was taken by
Anne
last night. This was her 1st GP show.